Information about our All Access Pass
An Altuslearn All Access Pass is a great way to stay current with your biannual or annually required continuing education needs. Once you are a All Access Pass member you will have unlimited access to the vast majority of our course catalog without paying the course fee. Subscribers will also gain the CE Wallet function of our site which allows you to easily track your credit requirements and progress towards accreditation. We Offer a $16.99 monthly pass and a $159.99 annual subscription. Interested Parties Can find Instructions on how to subscribe below.
On the Altuslearn home page you will see a button that says "Get our All Access Pass"
Clicking that button will take you to the subscription page found here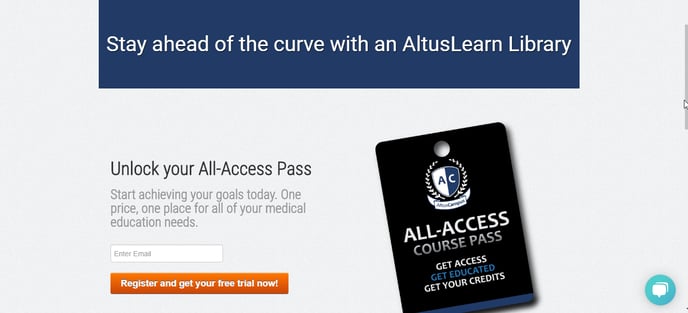 Here you will be able to sign up for a free seven day trial If you want to try the All Access Pass before committing.
If you continue lower on the page you will see the different subscription options
Choose the subscription option that that fits your needs add your information and you are all set to enjoy the perks of being an All Access Pass Subscriber!